With over 1500 installations, eMenu International is the most experienced provider of interactive menus in the world.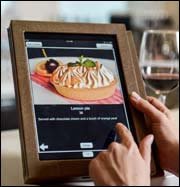 This month so far…
[jellyfish_counter start=100 end=1500]
The number of customers enjoying the eMenu experience continues to grow
Our expertise in providing solutions to a range of establishments is unmatched anywhere. We currently work with clients in more than 15 countries including some of the top brands in the Service Establishment industry. Whether you're a local restaurant like Abigael's on Broadway in Manhattan or need grand scale implementation like the Crowne Plaza and W Hotels, we've done it all. Just ask any one of our clients.
Among Our International Clients
[ihrss-gallery type="GROUP1″ w="960″ h="100″ speed="2″ bgcolor="#FFFFFF" gap="10″ random="NO"]

[greybox]
No other electronic menu provider does as much to help you succeed.
You'll see an average 3-6% increase per each customer's check within 3 months, guaranteed.
eMenu is recommended by restaurants in the smallest corners of the world and the greatest brands around the world.
eMenu specializes in combining human-touch waiter service with innovative technology to elevate the dining experience.
From budget and timing to scalable implementation, we've set up over 1500 installations in ways that work best for our clients.
eMenu International allows you to try our system for 3 months free of any long-term obligation.
[/greybox]

See an average 3-6% increase per check after 3 months – guaranteed.